About Us
Taste of China is a chinese restaurant based in Greasbrough. Why not try our delicious Special Set Dinner B For Two or Yeung Chow Fried Rice!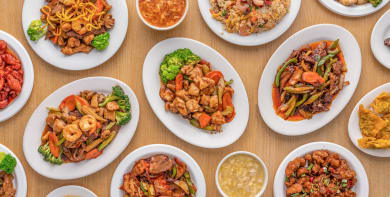 Reviews
327 reviews
MR
"Amazing 6 dishes ! On time, not greasy, great !"
09/05/2021
jodie
"Food full of flavour and piping hot came early not a problem delivery driver pleasant and polite can't fault it"
01/05/2021
Ann
"The very tasty and ample dishes were at optimum temperature on arrival. A thoroughly wonderful eating experience. Thank you."
30/04/2021
Em
"Food wasn't as nice as what it normally is, the beef in ok sauce was too crispy"
26/04/2021
Menu
Crab Meat & Sweetcorn Soup
£2.70
Hot & Sour Soup
Hot & spicy
£2.70
Taste of China Appetisers
Prawn toast, OK spare rib, seaweed, crispy wonton, spring roll, mushroom with chilli & salt (hot & spicy), crispy shredded chicken
£9.50
Assorted Spare Ribs
Peking ribs, chilli salt ribs (hot & spicy), BBQ ribs & honey ribs
£9.50
Assorted Starter
Spring roll, sesame prawn toast & crispy wonton with sweet & sour sauce
£5.30
BBQ Spare Ribs With BBQ Sauce
£6.00
BBQ Spare Ribs With Sweet & Sour Sauce
£6.00
BBQ Spare Ribs With Syrup Sauce
£6.00
BBQ Spare Ribs with Peking Sauce (Spicy)
Hot & spicy
£6.00
BBQ Spare Ribs with Plum Sauce
£6.00
BBQ Spare Ribs with OK Sauce
£6.00
BBQ Spare Ribs with Chilli & Salt
Hot & spicy
£6.00
Deep Fried Fillet Chicken with Chilli & Salt
Hot & spicy
£5.80
Deep Fried Beef with Chilli & Salt
Hot & spicy
£5.30
Deep Fried Pork with Chilli & Salt
Hot & spicy
£5.30
Deep Fried Chicken Wings with Chilli & Salt
Hot & spicy
£4.70
Deep Fried Mushroom with Chilli & Salt
Hot & spicy
Vegetable
Small container
£3.90
Deep Fried Squid with Chilli & Salt
Hot & spicy
Small container
£6.00
Deep Fried King Prawn with Chilli & Salt
Hot & spicy
Small container
£6.00
Spring Rolls (4) with Sweet & Chilli Sauce
£4.10
Vegetable Spring Rolls (12)
With sweet & chilli sauce
£4.10
Sesame Prawn on Toast (6)
£4.10
Deep Fried Seaweed
Vegetable
£3.70
Crispy Wonton with Sweet & Sour Sauce (12)
£4.50
Crispy Shredded Chicken with Sweet & Sour Sauce
£4.70
Chicken Skewered in Satay Sauce
Hot & spicy
Small container
£5.20
Crispy Aromatic Duck Quarter
Served with pancake, hoisin sauce, shredded spring onion & cucumber
£9.00
Crispy Aromatic Duck Half
Served with pancake, hoisin sauce, shredded spring onion & cucumber
£17.00
House Special Fried Rice
Delicious king prawn, chicken, roast pork, beef & vegetables with sauce
£6.30
Singapore Fried Rice (Spicy)
Hot & spicy
£5.50
Pineapple Fried Rice with Cashew Nuts
Vegetable
£5.00
Vegetable Fried Rice with Cashew Nuts
Vegetable
£5.00
House Special Chow Mein
Delicious king prawn, chicken, roast pork, beef & vegetables with sauce
£6.30
Singapore Chow Mein (Spicy)
Hot & spicy
£5.50
Singapore Vermicelli (Spicy)
Hot & spicy
£5.50
Vegetable Chow Mein
Vegetable
£5.00
Special Set Dinner A For One
Chicken & sweetcorn soup (1)
Spring roll (1)
Sesame prawn on toast (2)
Choice of any main dish
Egg fried rice
£11.00
Special Set Dinner B For Two
Chicken & sweetcorn soup (2)
Assorted starter
Choice of any 2 main dishes
Yeung chow fried rice (2 small)
£21.00
Special Set Dinner C For Three
Chicken & sweetcorn soup (3)
Spring roll (3)
Quarter crispy aromatic duck
Choice of any 3 main dishes
Yeung chow fried rice (3 small)
£32.00
Special Set Dinner D For Four
Chicken & sweetcorn soup (4)
Spring roll (4)
Quarter crispy aromatic duck
Choice of any 4 main dishes
Yeung chow fried rice (4 small)
£43.00
Special Set Dinner E For Five
Chicken & sweetcorn soup (5)
Spring roll (5)
Half crispy aromatic duck
Choice of any 5 main dishes
Yeung chow fried rice (5 small)
£53.00
Udon (Spicy) Beef
Udon is Japanese style noodles, cooked with bean sprouts, onions, Chinese leaves, pods, celeries, carrots & XO sauce
Hot & spicy
£5.50
Udon (Spicy) Chicken
Udon is Japanese style noodles, cooked with bean sprouts, onions, Chinese leaves, pods, celeries, carrots & XO sauce
Hot & spicy
£5.50
Udon (Spicy) Roast Pork (Char Siu)
Udon is Japanese style noodles, cooked with bean sprouts, onions, Chinese leaves, pods, celeries, carrots & XO sauce
Hot & spicy
£5.50
Udon (Spicy) King Prawn
Udon is Japanese style noodles, cooked with bean sprouts, onions, Chinese leaves, pods, celeries, carrots & XO sauce
Hot & spicy
£6.10
Udon (Spicy) Special
Udon is Japanese style noodles, cooked with bean sprouts, onions, Chinese leaves, pods, celeries, carrots & XO sauce
Hot & spicy
£6.10
Udon (Spicy) Roast Duck
Udon is Japanese style noodles, cooked with bean sprouts, onions, Chinese leaves, pods, celeries, carrots & XO sauce
Hot & spicy
£6.20
Special with Chilli Bean Sauce
With beef, chicken, roast pork, king prawn & vegetables
Hot & spicy
£6.10
Deep Fried Chicken with Sweet & Sour Sauce
Separate
£5.50
Roast Duck with Chinese Leave
& Special soy sauce
£6.40
Par Po Duck
Fried duck with king prawns, chicken, roast pork, beef, duck & vegetables cooked with a wine sauce
£6.20
Chicken with Chinese Leaves & Soy Sauce
£5.80
Happy Family
Delicious king prawn, chicken, roast pork, beef, duck & vegetables, cooked in garlic, oyster sauce
£6.20
Wandering Dragon
Delicious king prawn, chicken & vegetables with cashew nuts, cooked in garlic sauce
£6.20
Ying Yong Chicken
Sliced chicken, roast pork & bean sprouts with BBQ sauce
£5.90
Ying Yong Duck
Sliced duck, roast pork & bean sprouts with BBQ sauce
£6.30
Fillet Steak Cantonese Style
£8.50
Fillet Steak with Green Peppers & Black Bean Sauce
£8.50
Fillet Steak with Ginger & Spring Onions
£8.50
Fillet Steak with Vegetables
£8.50
Fillet Steak with Sauce of Your Choice
£8.50
Curry Mixed Vegetable (V)
Hot & spicy
Contains wheat flour
£4.80
Curry Mushroom (V)
Hot & spicy
Contains wheat flour
£4.80
Curry Beef
Hot & spicy
Contains wheat flour
£5.40
Curry Chicken
Hot & spicy
Contains wheat flour
£5.40
Curry Roast Pork
Hot & spicy
Contains wheat flour
£5.40
Curry Shrimp
Hot & spicy
Contains wheat flour
£5.40
Curry King Prawn
Hot & spicy
Contains wheat flour
£5.80
Curry Special
Hot & spicy
Contains wheat flour
£5.80
Curry Roast Duck
Hot & spicy
Contains wheat flour
£5.90
Sweet & Sour Mixed Vegetable in Cantonese Style (V)
£4.80
Sweet & Sour Chicken Balls (10)
£5.40
Sweet & Sour Chicken in Cantonese Style
£5.40
Sweet & Sour Pork Balls (10)
£5.40
Sweet & Sour Pork in Cantonese Style
£5.40
Sweet & Sour King Prawn Balls (10)
£5.80
Sweet & Sour King Prawn in Cantonese Style
£5.80
Sweet & Sour Special Balls
£5.80
Sweet & Sour Special in Cantonese Style
£5.80
OK Sauce Mixed Vegetable (V)
£4.80
Hot & Sour Mixed Vegetable (V)
Hot & spicy
£4.80
Hot & Sour Beef
Hot & spicy
£5.40
Hot & Sour Chicken
Hot & spicy
£5.40
Hot & Sour Pork
Hot & spicy
£5.40
Hot & Sour King Prawn
Hot & spicy
£5.80
Hot & Sour Special
Hot & spicy
£5.80
Hot & Sour Roast Duck
Hot & spicy
£5.90
Sweet & Chilli Sauce Mixed Vegetable (V)
Hot & spicy
£4.80
Sweet & Chilli Sauce Beef Shredded
Hot & spicy
£5.40
Sweet & Chilli Sauce Chicken
Hot & spicy
£5.40
Sweet & Chilli Sauce Pork
Hot & spicy
£5.40
Sweet & Chilli Sauce King Prawn
Hot & spicy
£5.80
Sweet & Chilli Sauce Special
Hot & spicy
£5.80
Szechuan Mixed Vegetable (V)
Hot & spicy
£4.80
Szechuan Beef
Hot & spicy
£5.40
Szechuan Chicken
Hot & spicy
£5.40
Szechuan Pork
Hot & spicy
£5.40
Szechuan King Prawn
Hot & spicy
£5.80
Szechuan Special
Hot & spicy
£5.80
Szechuan Roast Duck
Hot & spicy
£5.90
Kung Po Mixed Vegetable (V)
Hot & Spicy
£4.80
Kung Po Chicken
Hot & Spicy
£5.40
Kung Po King Prawn
Hot & Spicy
£5.80
Kung Po Special
Hot & Spicy
£5.80
Kung Po Roast Duck
Hot & Spicy
£5.90
Satay Mixed Vegetable (V)
£4.80
Green Peppers & Black Bean Sauce (Spicy) Mixed Vegetables (V)
Hot & spicy
£4.80
Green Peppers & Black Bean Sauce (Spicy) Beef
Hot & spicy
£5.40
Green Peppers & Black Bean Sauce (Spicy) Chicken
Hot & spicy
£5.40
Green Peppers & Black Bean Sauce (Spicy) Pork
Hot & spicy
£5.40
Green Peppers & Black Bean Sauce (Spicy) King Prawn
Hot & spicy
£5.80
Green Peppers & Black Bean Sauce (Spicy) Special
Hot & spicy
£5.80
Green Peppers & Black Bean Sauce (Spicy) Roast Duck
Hot & spicy
£5.90
Black Pepper (Spicy) Mixed Vegetable (V)
£4.80
Black Pepper (Spicy) Beef
£5.40
Black Pepper (Spicy) Chicken
£5.40
Black Pepper (Spicy) Pork
£5.40
Black Pepper (Spicy) King Prawn
£5.80
Black Pepper (Spicy) Special
£5.80
Black Pepper (Spicy) Roast Duck
£5.90
Cashew Nut Mixed Vegetable (V)
£4.80
Peking Mixed Vegetable (V)
£4.80
Ginger & Spring Onion Beef
£5.40
Ginger & Spring Onion Chicken
£5.40
Ginger & Spring Onion Pork
£5.40
Ginger & Spring Onion King Prawn
£5.80
Ginger & Spring Onion Special
£5.80
Ginger & Spring Onion Roast Duck
£5.90
Bamboo Shoots & Water Chestnut Beef
£5.40
Bamboo Shoots & Water Chestnut Chicken
£5.40
Bamboo Shoots & Water Chestnut Pork
£5.40
Bamboo Shoots & Water Chestnut King Prawn
£5.80
Bamboo Shoots & Water Chestnut Special
£5.80
Bamboo Shoots & Water Chestnut Roast Duck
£5.90
Egg Foo Yung Mushroom (V)
£4.80
Honey & Chilli (Spicy) Mixed Vegetable (V)
Hot & spicy
£4.80
Honey & Chilli (Spicy) Beef Shredded
Hot & spicy
£5.40
Honey & Chilli (Spicy) Chicken
Hot & spicy
£5.40
Honey & Chilli (Spicy) Pork
Hot & spicy
£5.40
Honey & Chilli (Spicy) King Prawn
Hot & spicy
£5.80
Honey & Chilli (Spicy) Special
Hot & spicy
£5.80
Pattaya Green Curry Beef
Rich & creamy in flavour with green beans
Hot & spicy
£5.50
Pattaya Green Curry Chicken
Rich & creamy in flavour with green beans
Hot & spicy
£5.50
Pattaya Green Curry Roast Pork (Char Siu)
Rich & creamy in flavour with green beans
Hot & spicy
£5.50
Pattaya Green Curry Special
Rich & creamy in flavour with green beans
Hot & spicy
£6.00
Pattaya Green Curry King Prawn
Rich & creamy in flavour with green beans
Hot & spicy
£6.20
Pattaya Green Curry Roast Duck
Rich & creamy in flavour with green beans
Hot & spicy
£6.30
Pattaya Red Curry Beef
Rich & creamy in flavour with green beans
Hot & spicy
£5.50
Pattaya Red Curry Chicken
Rich & creamy in flavour with green beans
Hot & spicy
£5.50
Pattaya Red Curry Roast Pork (Char Siu)
Rich & creamy in flavour with green beans
Hot & spicy
£5.50
Pattaya Red Curry Special
Rich & creamy in flavour with green beans
Hot & spicy
£6.00
Pattaya Red Curry King Prawn
Rich & creamy in flavour with green beans
Hot & spicy
£6.20
Pattaya Red Curry Roast Duck
Rich & creamy in flavour with green beans
Hot & spicy
£6.30
Thai Sauce Beef
Sweet basil, Thai hot sauce, onion & green pepper
Hot & spicy
£5.50
Thai Sauce Chicken
Sweet basil, Thai hot sauce, onion & green pepper
Hot & spicy
£5.50
Thai Sauce Roast Pork (Char Siu)
Sweet basil, Thai hot sauce, onion & green pepper
Hot & spicy
£5.50
Thai Sauce Special
Sweet basil, Thai hot sauce, onion & green pepper
Hot & spicy
£6.00
Thai Sauce King Prawn
Sweet basil, Thai hot sauce, onion & green pepper
Hot & spicy
£6.20
Thai Sauce Roast Duck
Sweet basil, Thai hot sauce, onion & green pepper
Hot & spicy
£6.20
Kar-Pow Beef
Thai herbs, garlic, onion & mild chilli
£5.50
Kar-Pow Chicken
Thai herbs, garlic, onion & mild chilli
£5.50
Kar-Pow Special
Thai herbs, garlic, onion & mild chilli
£6.00
Kar-Pow King Prawn
Thai herbs, garlic, onion & mild chilli
£6.20
Kar-Pow Roast Pork (Char Siu)
Thai herbs, garlic, onion & mild chilli
£6.20
Kar-Pow Roast Duck
Thai herbs, garlic, onion & mild chilli
£6.30
Thai Style Chow Mein Beef
Hot & spicy
£5.50
Thai Style Chow Mein Chicken
Hot & spicy
£5.50
Thai Style Chow Mein Roast Pork (Char Siu)
Hot & spicy
£5.50
Thai Style Chow Mein Special
Hot & spicy
£6.00
Thai Style Chow Mein King Prawn
Hot & spicy
£6.20
Thai Style Chow Mein Roast Duck
Hot & spicy
£6.30
Thai Style Fried Rice Beef
Thai herbs & garlic chilli
£5.50
Thai Style Fried Rice Chicken
Thai herbs & garlic chilli
£5.50
Thai Style Fried Rice Roast Pork (Char Siu)
Thai herbs & garlic chilli
£5.50
Thai Style Fried Rice Special
Thai herbs & garlic chilli
£6.00
Thai Style Fried Rice King Prawn
Thai herbs & garlic chilli
£6.20
Thai Style Fried Rice Roast Duck
Thai herbs & garlic chilli
£6.30
Boiled Rice
Vegetable
Small container
£2.10
Egg Fried Rice
Small container
£2.60
Bean Sprouts Chow Mein
Small container
£2.90
Mushrooms
Vegetable
Small container
£3.60
Bean Sprouts
Vegetable
Small container
£2.50
Chinese Leaves
Vegetable
Small container
£3.60
Fried Onion
Vegetable
Small container
£2.70
Deep Fried Onion Rings
Vegetable
£2.50
Chips with Sauce BBQ
Vegetable
£2.70
Chips with Sauce Curry
Vegetable
£2.70
Chips with Sauce Gravy
Vegetable
£2.70
Chips with Sauce Sweet & Sour
Vegetable
£2.70
Fried Rice with Sauce BBQ
£3.60
Fried Rice with Sauce Curry
£3.60
Fried Rice with Sauce Gravy
£3.60
Fried Rice with Sauce Sweet & Sour
£3.60
Fried Rice & Chip with Sauce BBQ
£4.40
Fried Rice & Chip with Sauce Curry
£4.40
Fried Rice & Chip with Sauce Gravy
£4.40
Fried Rice & Chip with Sauce Sweet & Sour
£4.40
Roast Chicken with Chips & Peas
£5.60
Special Omelette
With shrimp, chicken, roast pork, chips & garden peas
£6.60
King Prawn Omelette with Chips & Garden Peas
£6.70
Shrimp Omelette with Chips & Garden Peas
£6.30
Chicken Omelette with Chips & Garden Peas
£6.30
Mushroom Omelette with Chips & Garden Peas
Vegetable
£5.90
Plain Omelette with Chips & Garden Peas
Vegetable
£5.40
Contact Us
Find Us
17 Potter Hill, Greasbrough, S614NU
We deliver to
S60, S61, S62, S63, S64, S65